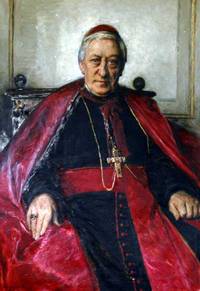 Bishop Johannes von Euch, prefect apostolic 1884-1892, vicar apostolic 1892-1922. Born in Meppen in Hannover.
Under Bishop von Euch a significant consolidation of the Catholic Church in Denmark took place. The number of Catholics increased from about 5000 to about 25,000. Many priests and religious came to Denmark, many new parishes were established, and a considerable number of churches, schools and hospitals were built. In spite of the war between Denmark and Germany in 1864, the German-born bishop was very popular. He was an energetic and successful missionary of the old type.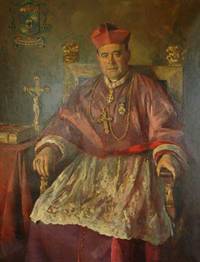 Bishop Josef Brems, vicar apostolic 1922-1938. Born in Testelt in Belgium. Premonstratensian.
The inter-war period, during which Bishop Brems was vicar apostolic, was a difficult time for the Catholic Church in Denmark. Among other things, there were difficulties with the integration of the Polish Catholics in the country.
Bishop Brems attached importance to strengthening the sense of community of the scattered Catholics with meetings, rallies and church celebrations. At the same time he worked zealously for religious absorption, among other things by means of retreat days and spiritual exercises.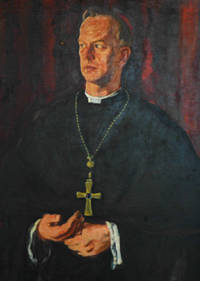 Bishop Theodor Suhr, vicar apostolic 1938-1953, bishop of Copenhagen 1953-64. Born in Nyborg in Denmark. Benedectine.
With great authority, Bishop Suhr strengthened the diocese internally and put the finances in order. He contributed to making Catholicism more Danish and strengthened the reputation of the Church in Danish society. He managed to lead the Catholic Church in Denmark through the Second World War without serious tensions, even though the Catholics and not least the priests and religious had different nationalities. Bishop Suhr brought about the raising of the Apostolic Vicariate to a diocese in 1953. He had to retire because of health problems in 1964, but in spite of this he lived until 1997.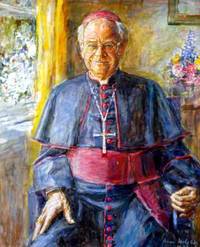 Bishop Hans Ludvig Martensen, bishop of Copenhagen 1965-1995. Born in Copenhagen. Jesuit.
Bishop Martensen carried out the decisions of the Second Vatican Council in the diocese. This was a comprehensive, long and difficult process, which affected almost all aspects of the Church's life. In keeping with the Danish traditions of freedom, he gave the Catholic laity greater influence on the administration of the Church than was usual in other parts of the Catholic Church. In an exemplary fashion, he worked to make the many new Catholics of foreign extraction feel at home in the Catholic Church in Denmark. As a theologian, Bishop Martensen played a significant role in ecumenical work both in Denmark and internationally, and he was known as an outstanding preacher. He led the extensive preparations for the pope's visit to Denmark in 1989.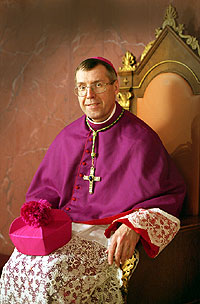 Bishop Czeslaw Kozon, bishop of Copenhagen 1995-present.
Born 17 November 1951 in Idestrup in Falster, Denmark. Ordained priest 6 January 1979 in Saint Ansgar's Church, and ordained bishop 7 May in the same place. The present bishop of Copenhagen. During his first six months as a priest, he worked at Saint Ansgar's Church.
Bishop Czeslaw Kozon's coat of arms
The bishop's new coat of arms, made by royal heraldic artist Ronny Andersen, was blessed in connection with the mass on 28 January 2007. The bishop tells about his coat of arms and his choice of motto: 'My choice of coat of arms is due largely to my motto, Veritatem in caritate, which, detached from its context, seems grammatically wrong because it is taken from a sentence that reads: 'Veritatem autem facientes in caritate crescamus in illo per omnia, qui est caput Christus' – 'Rather, living the truth in love, we should grow in every way into him who is the head, Christ', cf. the Epistle to the Ephisians 4,15. The golden sun on a blue field is a symbol of the truth. The heart with the cross on a golden field has a double purpose. For one thing, it illustrates the second part of the motto, love, for which the heart is a familiar symbol. For another, it brings to mind Blessed Nicolaus Steno (Niels Steensen), who had this subject on his coat of arms. Apart from venerating Blessed Nicolaus Steno as a great shepherd, whose life was really lived in accordance with the words of St Paul in the Epistle to the Ephesians, the choice of subject is also reminiscent of Bishop Martensen's coat of arms.'