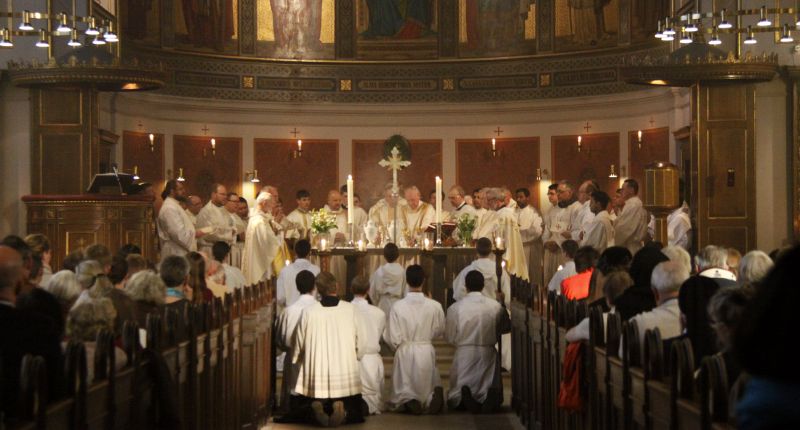 Saint Ansgar's Church is the cathedral of the Catholic diocese of Copenhagen, which comprises all of Denmark. The cathedral is the mother church of all the churches in the diocese and the centre of its liturgical life because this is where the bishop has his seat. The furnishings and services of the church are supposed to serve as a model for the other churches in the diocese.
Saint Ansgar's Church has not always been a cathedral, but ever since it was built it has played a special role for the Catholics in Denmark. Before religious freedom was introduced with the Danish constitution in 1849, a certain Catholic liturgical life had developed in connection with the legations of the Catholic powers in Copenhagen.
In 1764, the Empress Maria Theresa paid for the construction of a modest legation chapel in the place where Saint Ansgar's Church stands today. In 1842 this chapel was replaced by a new church designed by G.F. Hetsch, one of Denmark's leading architects. The church was paid for with a bequest from Christian Peter Bianco, a resident Catholic. It was dedicated to Our Saviour. Later it was renamed Saint Ansgar's Church because the parishioners regarded Saint Ansgar as their special patron saint.
The Catholic Church in Denmark was restructured in 1868 when the pope established the Apostolic Prefecture of Denmark. The parish priest of Saint Ansgar's Church, Father Hermann Grüder became the first apostolic prefect.
In 1892 Denmark became an apostolic vicariate with a bishop – the vicar apostolic – who led the Church in Denmark on behalf of the pope. The vicar apostolic Bishop Theodor Suhr decided in 1942 that Saint Ansgar's Church should be put on the same footing as a cathedral because in practice the church had already performed this function for nearly a hundred years.
Saint Ansgar's Church could not officially become a cathedral until Denmark became a Catholic diocese with a resident bishop. This took place in 1953.